Gegevens

Gepubliceerd op dinsdag 24 april 2012 01:00
Geschreven door Marcel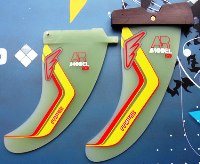 New MFC fins
Mauifin Company heeft een aantal nieuwe vinnen aan de collectie toegevoegd voor 2012:
Allround Wave
AR is an all around model for any conditions. Wave side shore, on-shore, off-shore; it's the fin for all types of waters and winds. A wave shape for the smaller sizes and going to more of a freewave shape for the bigger sizes. Speed and early planning are great characteristics of this fin.
Sizes:  21/22/23/24/26/28/31 cm  
Boxes: us, powerbox
Quad Set 211-Series
A new QUAD set-up is developed together with Francisco Goya (A-211). Compared to our current Quad sets, this set has an important difference: the center fins increase the size, meanwhile the side fins remain 8 cm. With Francisco's style we feel this is what really helps him riding waves the way he wants. The center fins are designed with a little more tip, giving the option to use smaller side fins. Great early planing and upwind ability are also good for on-shore conditions due to the bigger center fins. Great for European conditions!
Sizes: centre-fins 14/15/16/17/18 cm, side-fins: 8 cm  
Boxes: us/slotbox, us/mini-tuttle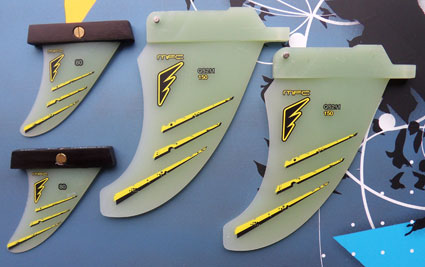 Freestyle Pro
The new generation of Freestyle fins. A little curvier tip in the outline allows easier sliding manouvers. New profile is used to accelerate the planing as quick as possible and to get to the top speed in the first 50-80 meters. This is the new freestyle weapon by MFC. Just feel free to spin!
Sizes: 15/16/18/20/22/24 cm  
Boxes: us/slotbox, powerbox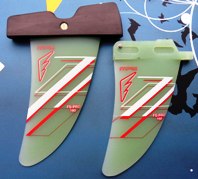 KP Racing
Our new Racing bullet is developed with Kevin Pritchard and tested for all the PWA events. This fin has a new profile for great early planing. This gives a boost in low-wind racing with bigger sailsizes. The smaller sizes are created to crap a new PR!
Sizes: 28 t/m 50 cm (per 2 cm)  
Boxes: tuttle, powerbox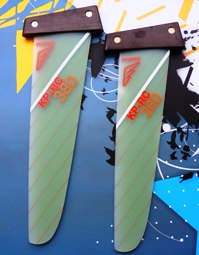 Voor meer info:
http://www.essentialstore.nl/homepage/