Gegevens

Gepubliceerd op woensdag 30 mei 2012 09:09
Geschreven door Mark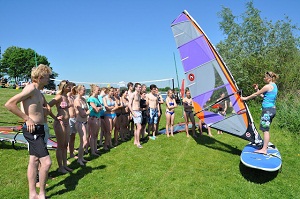 Tijdens de Surfin'2012 van NSSV Aeolus op de Kraaijenbergse Plassen hebben 90 studenten binnen één dag leren windsurfen!
Op 25, 26 en 27 mei vond de 11de editie van surfin' plaats! Surfin' 2012 wordt georganiseerd door NSSV (Nijmeegse Studenten Surf Vereniging) Aeolus uit Nijmegen. Wat begonnen is als een weekendje surfen en relaxen op onze eigen surfspot, is inmiddels uitgegroeid tot een geweldig evenement. Ieder jaar weer raken mensen verslaafd aan het surfin' virus!
Jip Philippi zorgde met zijn windsurfschool voor de lessen waarbij uiteindelijk 90 studenten een introductie van windsurfen kregen en hun rakjes heen en weer konden varen.
Lees hier zijn verhaal:
Ex Hot Sails Maui intern Jip Philippi has been planning for this for some time and it is great to report that his new windsurf school based in the Netherlands has been such a success from the start.
We caught up with Jip to see how things at Pro-Into Windsurf School were going and this is what he had to say;
"The seasons started cold here in Holland. So for Pro-Intro Windsurf School the first experience started at a two day student organized windsurf event and this is how it went;
FRIDAY: We arrived at the event at 11pm. We just missed the introduction and the first thing we heard was;
"Hi Jip and Inge, good to have you here You want a beer? You will need it, because 90!!! people subscribed for you're lessons!"
Wow!!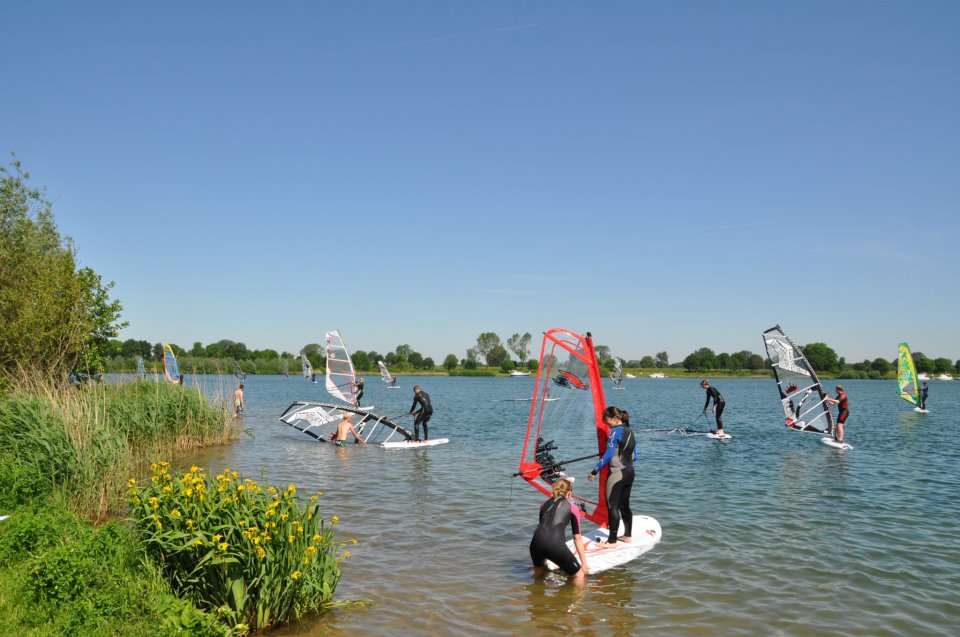 SATURDAY: Before we were able to teach anybody anything we had to unload, unpack and rig 15 boards and 17 sails! Most of them for the first time, so it took a bit longer than you would expect. Some products just came out of the cardboard!
The initial plan was to teach 30 people at the same time. That means 3 groups. 2 hours per group! As a technology teacher I'm used to talking to groups, but I sure had some nerves this time! Together with Inge the introduction went so well! We went on the water on our SUP's. Giving tips, advice and switch gear with the students to show them what they can do to windsurf better. Perfect workout for us. Perfect way to be in touch with the students and very effective! They did great!
The second and third group went better and better. A bit of shaving here and there. Safer conditions, more effective and more fun. A fast learning curve not only for the students! After spending 7 hours on the water, another hour to clean up, the beer tasted good!! A nice party ended this perfect day!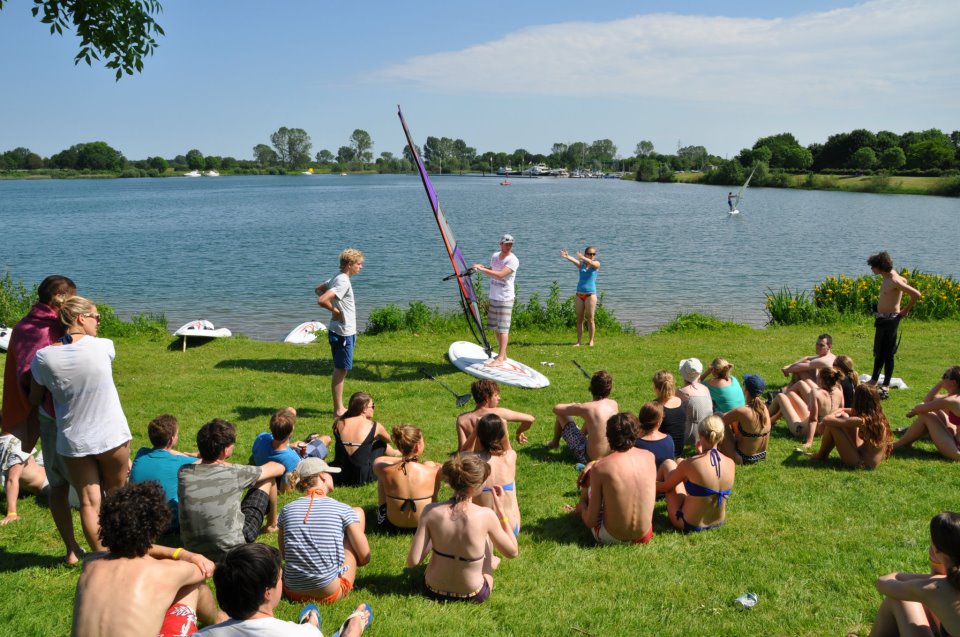 SUNDAY: We heard that some people had a hangover, and wanted to relax. We decided to give a second clinic in the morning, after that people were able to sail whenever they wanted.
At 11:00, still 40 fanatics showed up and by half way through the clinic we were up to 50! We thought it would be less crowded, but all day people were sharing rigs together! So another fun, long day!
What made my day in the end was this student, on Saturday he had won a Hotrod carbon extension. He had so much fun sailing, but it was too early for him as he doesn't have his own equipment yet. He wanted to give the extension to us as he thought we could use it. I couldn't take it because I know the prices. He insisted and I agreed on one condition. We want you to come over and give you a private lesson!! Deal! He was very happy. That felt good!
So:
90 students got an introduction on windsurfing!
90 students we able to go back and forth after 1 day
90 students had smiles all day 2 instructors have a smile all week!!
Looking forward to the next edition of this event!
Thanks to our supporters, Hot Sails Maui & F2."
Sounds like a wonderful weekend, this is what our sport needs to thanks to Jip and his school, we are very pleased to be a part of this venture and look forward to hundreds of new windsurfers by the end of the year!
Bron: blog.hotsailsmaui.com
Pro-intro windsurfschool: www.facebook.com/pages/Pro-Intro-windsurfschool
Website NSSV Aeolus: www.nssvaeolus.nl