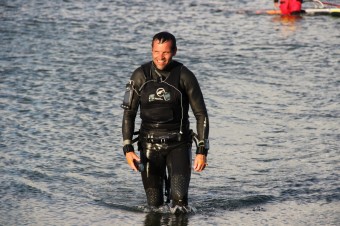 De Nederlandse windsurfer Dennis Klaaijsen (NED-192) verbeterde afgelopen week het langeafstandsrecord Windsurfen. Maar de Vlissinger heeft zichzelf alweer een nieuw doel gesteld.
Het is eigenlijk gekkenwerk en Dennis heeft de blaren nog op zijn handen staan, maar toch is het volgende doel alweer gesteld. Afgelopen weekend verbeterde de 39-jarige Vlissinger het wereldrecord lange afstand surfen, door in 24 uur meer dan 700 km op zijn surfplank af te leggen. Een wereldrecord, maar dat is voor Dennis niet genoeg. Hij wil namelijk binnenkort de Noordzee over surfen en het huidige wereldrecord op die afstand ook nog eens verbreken.
Hierbij zijn persoonlijk verslag (in het Engels vanwege de Internationale belangstelling):
A weather window opened up for the 10th of August, finally , the first good one this season. A 24 hour attempt is ideally planned around the 22nd of June, this being the day with the most hours of daylight and only 6 hours of darkness. Doing a record attempt now meant that I had a total of 8 hours of darkness in which your skills and concentration are pushed to their highest level. It was full moon that night and sufficient clearing skies were forecast to trigger my interest.
To beat the existing 630 kilometers that I surfed last year, I knew I had to change something. Last year after sunset the wind played havoc, meaning I did not stay on the water for the full 24 hours. It became patchy and after 20 hours I was absolutely wrecked because I had to pump a lot with my sail, to stay planing. There were still a couple of hours in the bag when I decided to call it a day around 02.00 in the morning.
This time I started my attempt at 19.30 in the evening so I would go fit into the hardest part of the journey, the night time surfing.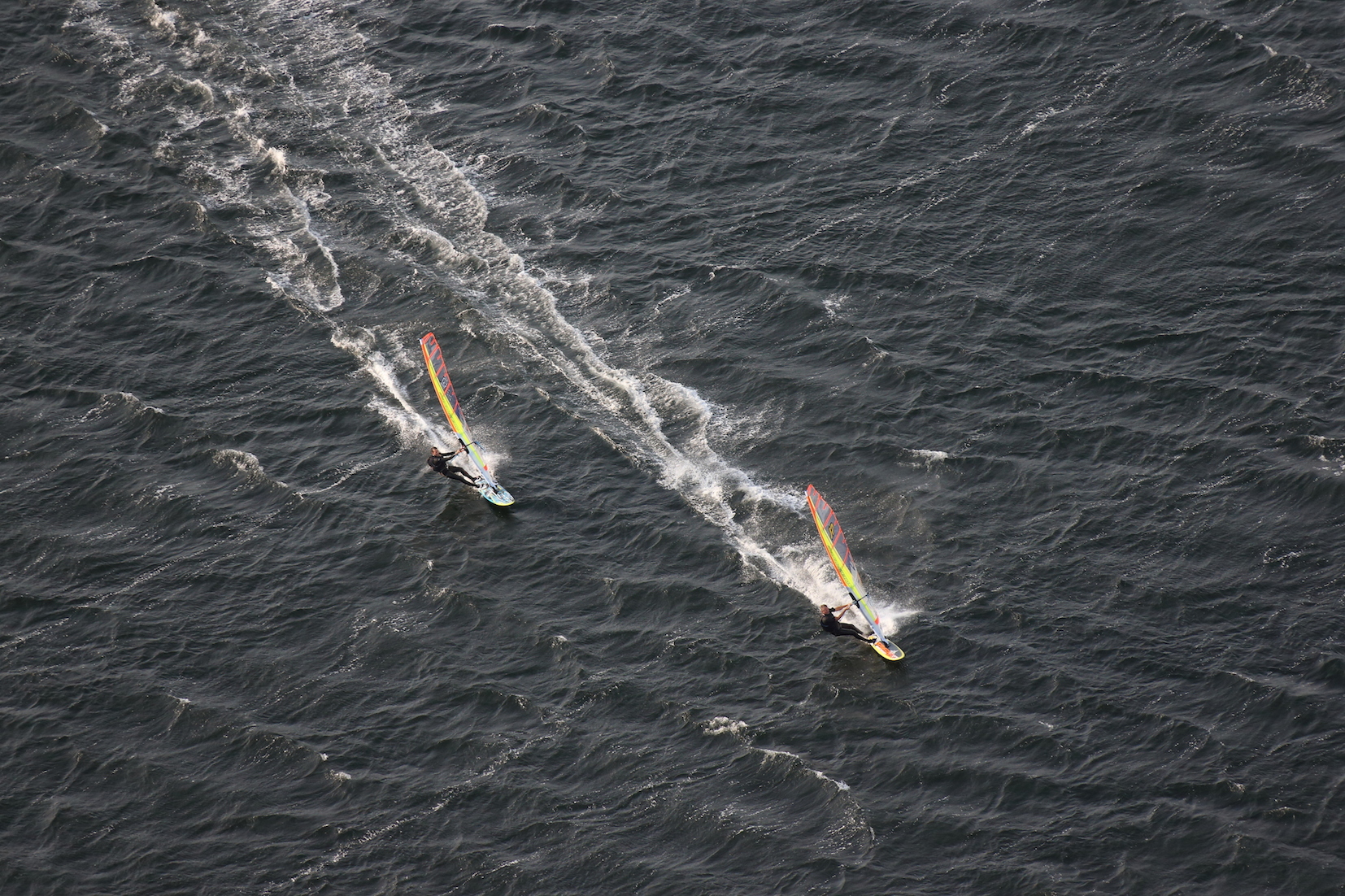 At 16.00 my family and two colleagues and surf buddies arrived at Zonnemaire NL, to get the equipment ready . We had a Zodiac with an outboard engine which was used to attach two lights to all the buoys that I might encounter during the night. On a cut off boom head attached to the mast, two lights were attached to allow me to see the first few meters of water in front go me and a mast head light was installed on top of the sail so I would be visible from the shore side. On my head I would wear a head lamp and in my crash vest a hand held flare as well a a strobe light, in case I would run into danger. During the whole time I had a watertight VHF radio with me so I could call the crew on the shore side if I needed something. A phone in a watertight container served as back up. The rescue brigade in Vlissingen lent us three survival suits so the crew were well protected incase they had to come out and look for me.
The Zodiac was at anchor at the point were I would surf past; and where three sets would be tied up to a line, so I could change quickly if the wind would increase or decrease. In the zodiac were two big plastic crates with food and drink supplies as well as two spare camel bags. If I would run low on supplies, I only had to jump into the boat to restock.
The weather forecast showed that the remains of ex hurricane Bertha would pass around 19.00 after which the wind would veer to the favorable west south west direction force 6 gusting to 33 knots, force 7. A normal pattern is that during sunset the wind drops so I knew I had to rig just about everything I had in the surf trailer. Luckily the trailer is filled with equipment sponsored by VERTIGO Sports in Kamperland so I had everything I needed. Five complete sets were ready to go by 19.00:
8.6 m2 Neil Pryde RS Racing EVO 6 with Tabou Manta 81 with 46 Boss custom S- fin
7.8 m2 Neil Pryde RS Racing EVO 6 with Tabou Manta 71 with 38 Z finns S-
7.0 m2 Neil Pryde RS Racing EVO 6 with Tabou Manta 66 with 36 Z finns S-
6.4 m2 Neil Pryde RS Racing EVO 6 with Tabou Manta 59 with 34 Boss custom S
5.8 m2 Neil Pryde RS Racing EVO 6 with F2 SX XS 80 with 30 Boss Custom S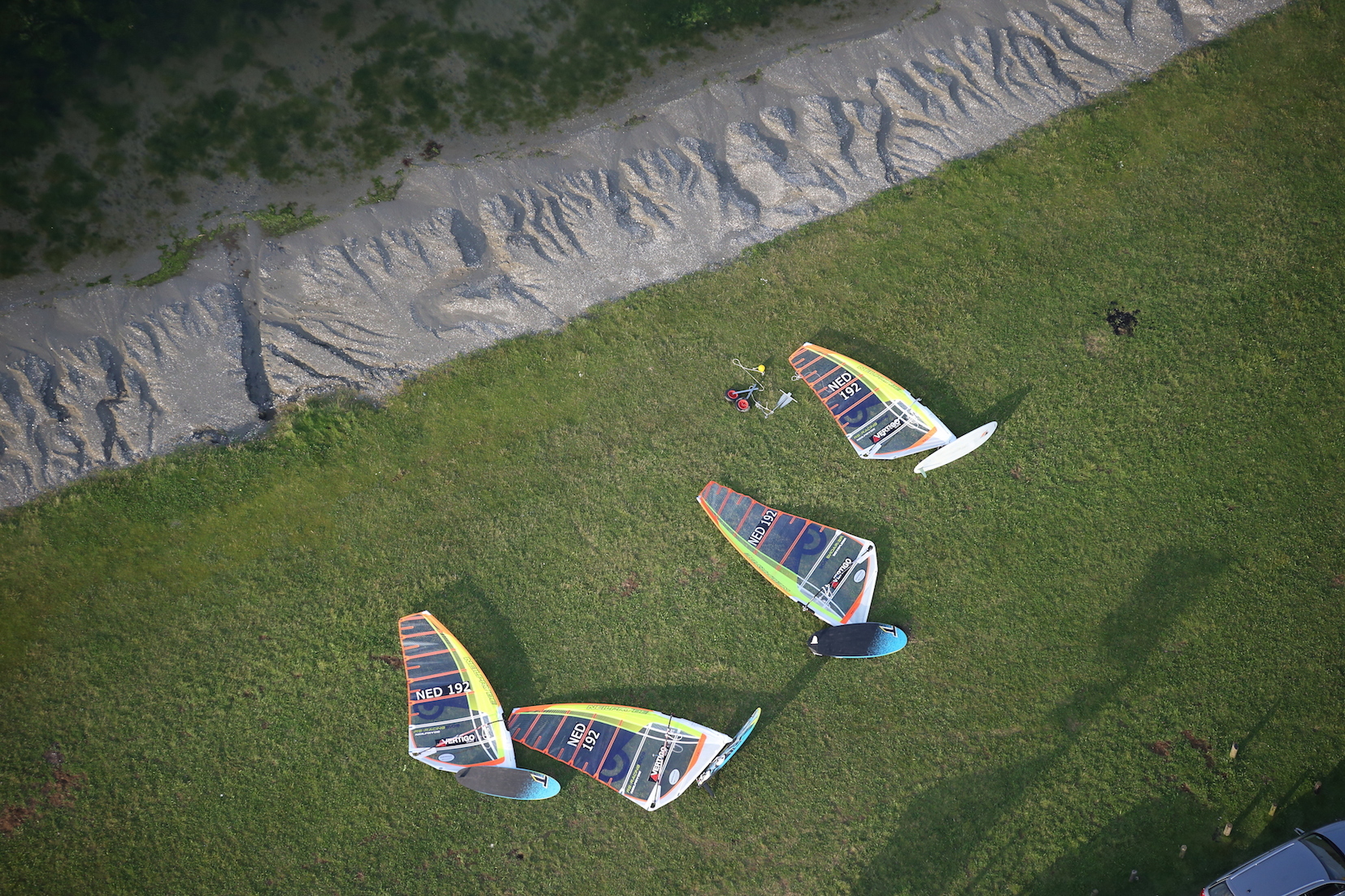 Equipped with 3 x GT 31 GPS devices, a crash vest filled with Energy gells, power bars and a camel bag on my back, I hit the water at 19.30 with the 6.4m2 and the Tabou Manta 59.
The wind was perfect and the first 100 kilometers were completed in just under two and a half hours.
A helicopter came over to make some arial footage and some great shots were made when Neil Pryde Market manager Benelux Jacques van der Hout and myself were sailing side by side.
Around sunset the same drill as last year, the wind started to drop! and I changed to 7.0 followed by the 7.8m2 and even 8.6m2. Around midnight the wind filled up again and with 7.8 m2 I sailed through the night. Unfortunately the wind backed by 20 degrees during the dark hours, to 225 degrees south west, so I could not sail the intended course close to the dams at the shore side. Crossing the lake in some low chop is more tiring and reduces the speed however it was full moon which was a big help and when not obstructed by clouds it was magnificent to sail. For about one hour during the night the wind wasn't strong enough to plane and during a wind dip at 05.15 I decided this was the time to come ashore for the first time.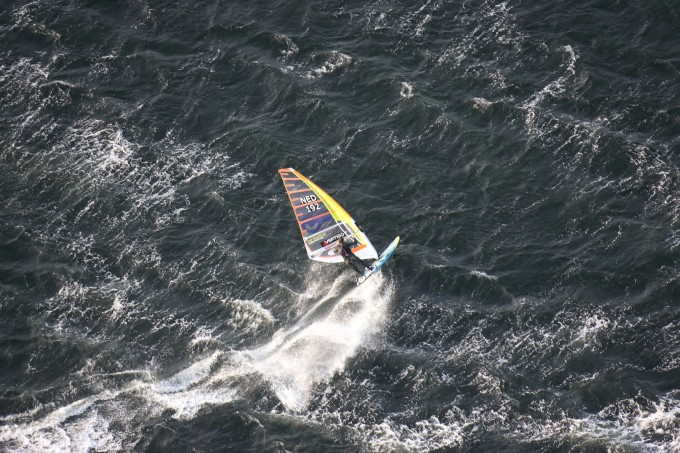 The GPS reading was 285 kilometers so I was still on track to beat my current 630 world record. I loaded myself up with Pasta and after a ten minute relax on a stretcher I got myself ready to go back on the board at 05.45 just before sunrise. The wind had veered to west south west so with the sunshine smiling at me I managed to clock some good distance.
At 07.30, twelve hours after the start the display was reading 340 kilometer. Knowing that the 8 hours in the dark was the most difficult part wind wise, I was confidant and kept on going. By this time the first blisters that formed on my hands started to open up and the hold on the boom became more painful by the minute. I started to use some lifting straps during the night to slightly ease the pressure on my hands and that did give me some comfort but the continuous pull on the boom really started to take it's toll on the hands.
I continued with the 7.0 m2 and just after 12.00 lunchtime I passed the 500 kilometer mark. For the afternoon some isolated rain showers were forecast and small showers came over which backed the wind to south west again and also meant that the wind subsided from time to time. Frustrated by the irregularity and the exhaustion, sailing became increasingly difficult. At 14.00 I passed Craig Hollins, my nearest competition, and his 550 kilometer distance and around 16.30 I passed the 630 mark. With 3 hours to spare I just had to keep going. Last year my aim was to get over the 700 kilometer mark (the wind denied me the opportunity) and even-though conditions weren't perfect I couldn't quit now. To much effort was put in and the crew on the shore and all my sailing buddies on the water cheered me on and pushed me to keep on going.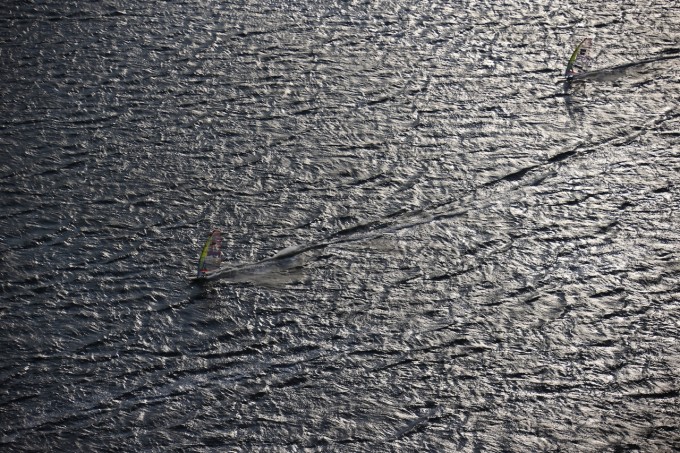 At 17.00 when I was at the middle of the lake, the wind swung around to west south west again and increased till a steady 6 beaufort. That was just what I needed to finish the last two and a half hours. At that point the 6.4m2 would have been relaxer to sail but I did not want to take the risk of having a smaller set if the wind would drop again so I kept on going full throttle. Physically I was still on my board but mentally I had left the water a while ago. It felt like I was in a complete trance and probably in some form of shock as well. The stretches with the flattest water were about 1,5 kilometer long and that's where I stayed till the clock finally showed 19.30....
The GPS showed 742 when I finally made it to the shore side. The distance I sailed before and after 19.30 needs to be subtracted so that made the clock stop at 728 kilometer.
My colleague and good friend Sjoerd carried the set back to shore, where friends and family gathered to welcome be back on solid ground. My hands looked like Freddy Gruger counting 26 blisters all together. A couple of blisters on my feet where they went in the foot straps, and two black toe nails complete the physical if not mental damage list.
My friends de rigged the equipment while I finally took of my wetsuit. The champagne was opened and after a huge bowl of chilly and rice the whole convoy went home. Luckily I could sit in the passenger seat since I was in no fit state to drive home for one hour. During the trip back utter exhaustion struck. Shivering I made it home and during the course of the night I woke up numerous times shaking and sweating.
The day after I felt remarkable good. A couple of sport massages to relax the muscles and some good sleeps helped me with the recovery, however its already a week ago and I'm still not back to war strength. I've made a short session on the board but the hands still don't agree with holding a boom. Vaseline and lavender oil are their biggest friends at the moment.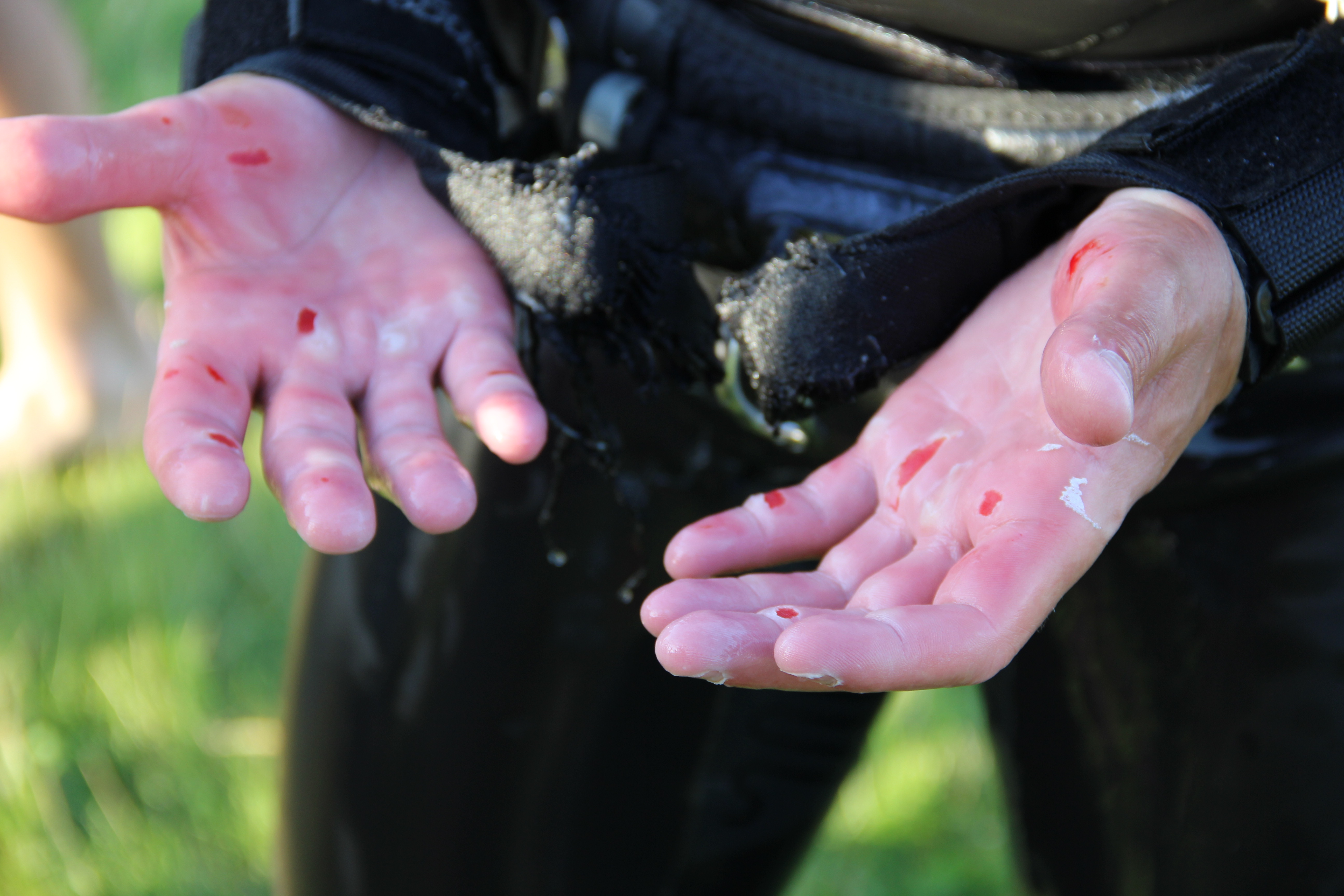 When uploading the data from a GPS into the computer, a so called doppler filter needs to be applied, to take the spikes out of the data. The corrected data will be around 700 kilometer. The data from from two of the three GPS units I had , did not show the full sailed distance on the display. This worried me and I've extracted all data from all three GPS units and sent it to the record committee of GPS speedsurfing. A formal ratification hasn't happened yet and hopefully the data provided will be sufficient to become to a valid claim, both for GPS speed surfing, as well as for Guinness world records. The gybe analysis showed 395 turns of which I felt in 5 times
Would I do it again??? Let's first see what the final outcome is of the distance. Does a perfect 24 hour doesn't exist I don't know that. I still have not had MY perfect storm. The full moon assisted a lot during the night time. The wind shifts made it a harder than expected challenge however I won the fight from the man with the hammer...this time.
This year a North sea Crossing from Lowestoft, England to IJmuiden, Holland is still on the to do list. To draw the attention for a sea going profession and volunteers for the rescue services in Holland, Sponsoring by the Dutch rescue service KNRM, and the Dutch pilot organization is arranged. With the equipment from VERTIGO sports the waiting games starts again. A southerly wind is needed to complete the nearly 200 kilometer crossing, my aim is under 6 hours.
Zijn uitzonderlijke prestatie was te zien op TV bij Omroep Zeeland en bij SBS6 Hart van Nederland!
Bron: Dennis Klaaijsen (NED-192)